Kairos Power is a nuclear research and testing facility in Alameda, CA. It was an old hangar built in the 1940s for the Navy. In addition to that, it was also used as a manufacturing building. In 2017, it was leased by Kairos Power. While a lot of long-standing buildings are too old and need to be demolished and replaced by new structures, most of the Navy's industrial and civic buildings are often built to last for years and centuries. That is why many of them are reused and re-purposed.
The commercial painting team at Custom Painting, Inc. recently completed the Kairos Power painting project. Due to the construction schedule, the team was tasked with painting the exterior of the building during the winter months. That is very challenging as we've faced issues like cold temperatures, fog, wind, and rain. 
If you are from Alameda or any San Francisco Bay city, you are probably aware that weather can be an issue during winter. But with our professional painters, we overcame these problems and finished the project successfully. Read on to learn more about how Custom Painting, Inc. repainted Kairos Power.
Challenges Faced
Painting building exteriors comes with challenges, and weather plays a big role in the overall outcome of the Kairos Power project. From extreme heat to strong winds and heavy rains, all these weather conditions gave challenges to our painters. That is why it is important to understand the impact of these weather conditions on exterior painting to achieve a durable and long-lasting paint finish.
Weather-Related Challenges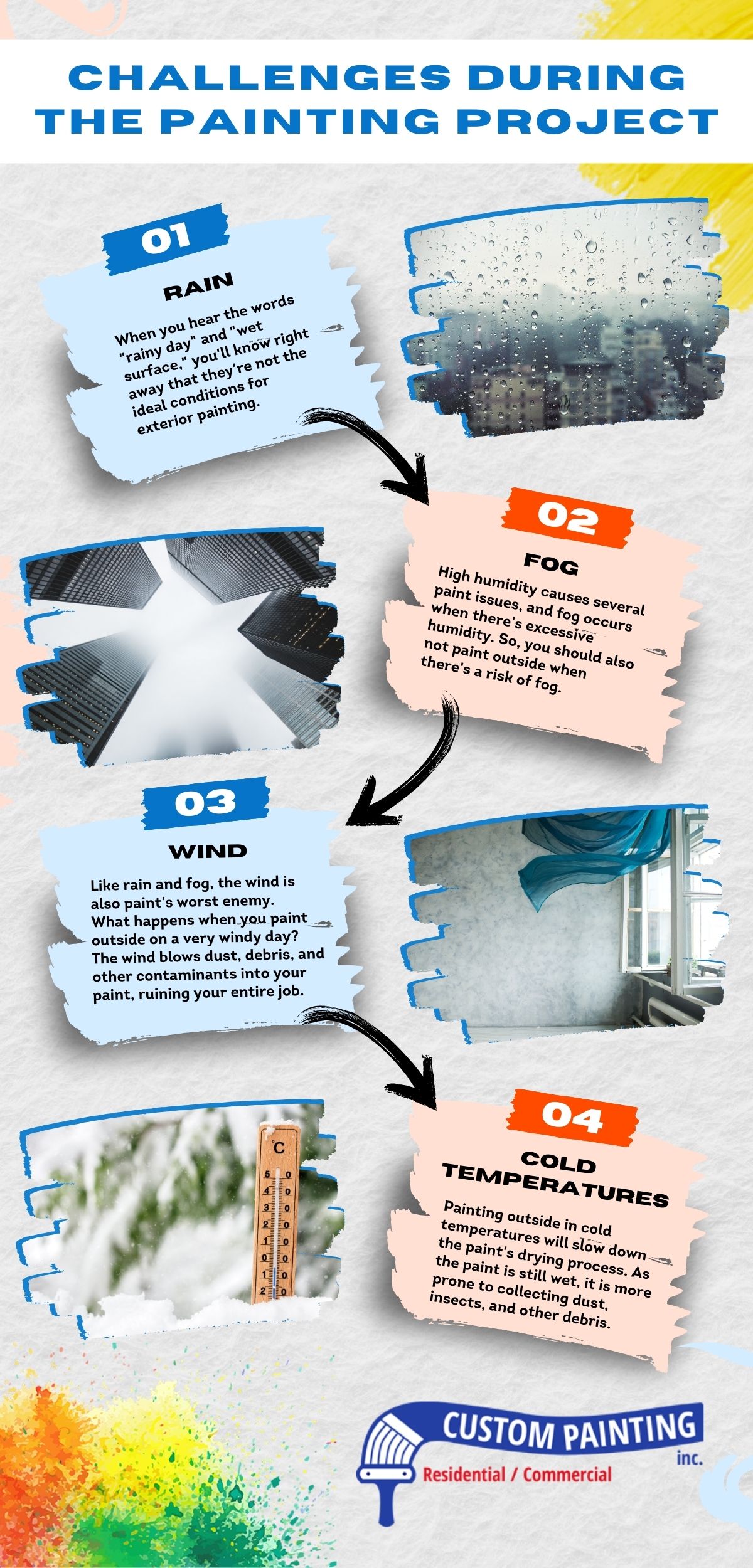 Below are some of the weather-related challenges that we've faced during the Kairos Power exterior painting project:
Rain
It is not an ideal weather condition for exterior painting when it is raining. It's because when the surface is wet due to rain, paint will not adhere properly to the surface. What's worse is that the combination of wind and rain will wash the paint off.
Exterior painting on a rainy day is not a good idea. However, it can still be done if the paint does not touch the exterior walls throughout the process, including the initial unpainted and completely painted surface. It is ideal for shielding the whole work area using a giant tarp or plastic enclosure to prevent the surfaces from taking in moisture. 
However, it is much better to put off the project when it is raining until the weather improves. Also, painting immediately after the rain ends is not a good idea. Waiting for a day or two after the rain is advisable to ensure the surfaces are completely dry. With this issue, we had to delay our painting project but keep in mind that if you want a painting job to be successful, it should not be rushed.
Fog
When there is fog, it means that there is also excessive humidity, which causes several paint issues. Therefore, it is also not a good idea to do exterior painting when there's a risk of fog. It's because excessive moisture in the air prevents the paint from drying well, which causes serious defects, such as bubbling and peeling. 
Wind
Like fog and rain, wind is also one of paint's worst enemies and one of the weather-related challenges we've faced. When you do exterior painting on a windy day, the wind will blow dust, debris, and other contaminants into the paint, which can ruin the whole project. Even if there is only moderate wind, it can still cause the paint to dry too fast, leading to insufficient film formation. 
In addition to that, painting outside while there are strong winds is dangerous as it may get you off the ladder or scaffolding. Therefore, exterior painting on an extremely windy day is not a good move. It is better to wait until the winds become less powerful. 
Cold Temperatures
Exterior painting in cold temperatures will slow down the drying process of the paint. Since the paint is still wet, it is more prone to collecting debris and insects. Also, condensation might occur on the surface of the paint, ultimately causing damage. 
Since pain dries slowly under cold temperatures, it may also force you to re-coat the surface. However, doing it is challenging as it may take up to six hours, depending on how low the temperature is and the type of paint you use. Paint does not dry fast enough between coats, resulting in surface issues like blistering and bubbling. 
Also, most latex paint can't be applied if the air temperature is below 35 to 50 degrees Fahrenheit. But some painters can work around the cold weather and still produce a clean, decent finish. The solution is to use paints with acrylic latex formula, which can work well in lower temperatures. Some also set the painting job during specific times of the day when the sun is expected to appear. 
Other Challenges Not Related to Weather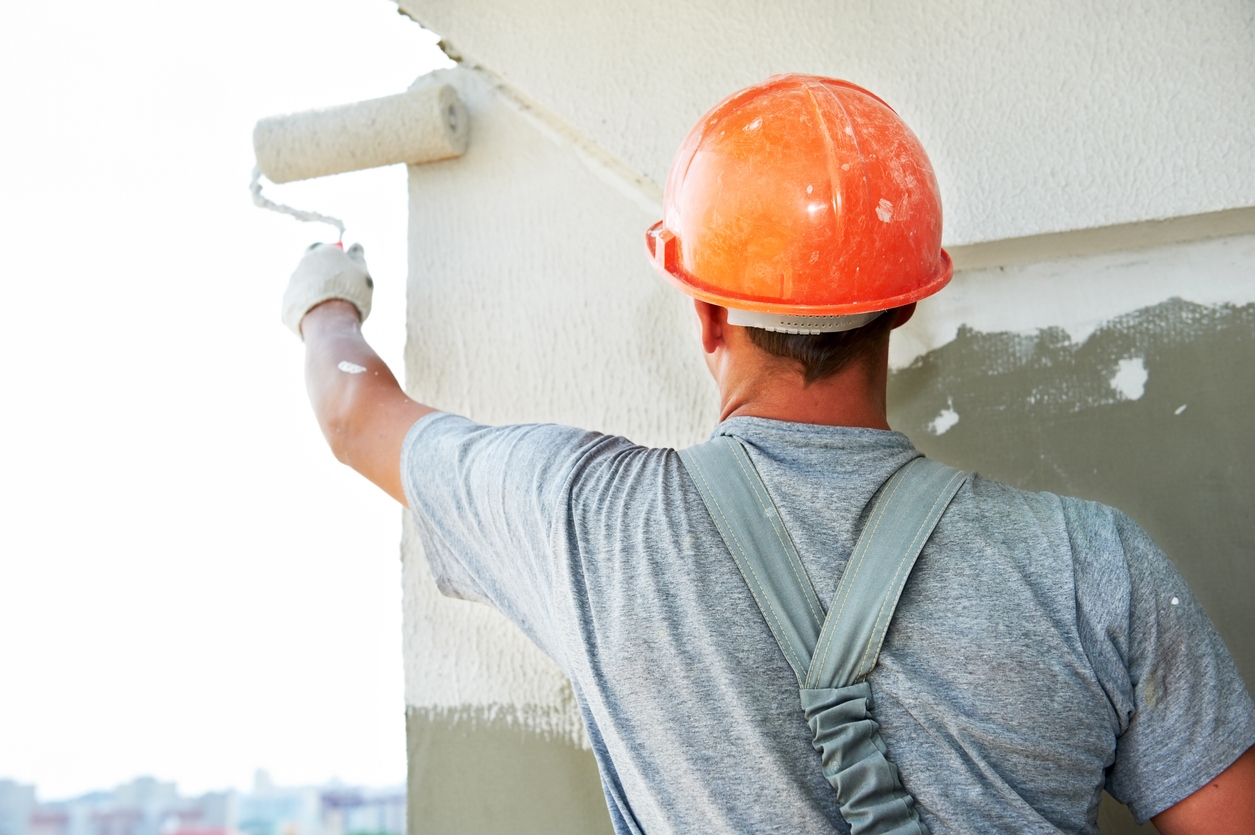 In addition to facing weather-related challenges, our team also experienced other issues. Below are some of them:
Lots of Windows
The warehouse had a lot of windows. Our team had to deal with more than 10,000 window frames. We needed to protect them from paint drops and sprays during the project. To do this, we used brown masking paper and masking tape.
Glass Panes Protection
Aside from window frames, we also need to protect the glass panes from overspray. This was a very time-consuming process. It was long and tedious, but it resulted in a clean look. 
How the Team Worked Around the Challenges
Even though our expert painters at Custom Painting, Inc. faced different challenges, both weather-related and not, they were still able to complete the Kairos Power exterior painting project successfully. Below are some of the effective solutions that we did:
Weather Monitoring
Our crew monitored the weather closely to see if there were any inclement conditions. This is an important step when it comes to exterior painting, as the team needs to be sure that the weather will be good for painting. If we do not check weather updates regularly, we might encounter extreme winds or rains during painting, which will ruin the project. 
Utilize Quick-Dry Products
Our team had to use products that dry fast in cold environments. This is very helpful as we can ensure that no particles or debris will stick to the paint as it dries fast. 
Delay the Project
Since rain is the main issue that we've faced, we had to delay the project for around 20 days or roughly 3 weeks. But this is actually a solution because rain can cause the newly applied paint to dry on the surface but not fully and properly cured. This will lead to water bubbles forming under the dried layer, making the surface appear like alligator skin. 
Even if we had to delay the project for a few days, we still finished it as soon as possible. Also, our contracts have a clause that allows extra time because of the weather if needed. 
Paint Used for the Project
We've mentioned earlier that our team used paint that can dry fast in cold environments. The paint that we used is called RESILIENCE by Sherwin-Williams. It is a high-quality paint for exterior surfaces. The best thing about it is that it can withstand different weather conditions due to its MoistureGuard technology. 
Other exterior paints require at least four hours of drying time before it is considered safe from rain and moisture and before applying another coat of paint if needed. Therefore, the project needs to be delayed, giving the paint enough time to dry. But when you use Sherwin-Williams' Resilience paint, only two hours of drying time is needed. It makes the surface resistant to mold and mildew.
With Resilience by Sherwin-Williams, it is easier to choose a day to paint as there are fewer concerns when it comes to the weather. We were also able to start our painting project during the day without the worry of moisture later in the evening. 
Some of the other great things about using Resilience by Sherwin-Williams include:
Having low volatile organic compounds (VOCs) levels.

Easy to apply.

Covers dark colors well.

Flows and levels well.

Works for many types of siding materials.

Suitable for clapboard, shakes, shingles, metal, and plywood.

Best for temperatures lower than 35 degrees Fahrenheit.

Available in satin, glossy, and flat finishes.
But you should note that Resilience paint is only for exterior painting. If the surfaces to be painted are already painted, two coats of paint are needed for enough coverage. If the surfaces are unpainted, they must be primed before applying this paint. 
Conclusion
The biggest challenge to this project is the weather that our paint crew has faced. But other than the weather, the other issues were typical when repainting an old building, which includes cracking and peeling paint. But despite these challenges and issues, Custom Painting, Inc. successfully transformed and updated the old building into a new and modern facility to our client's satisfaction. 
If you have leased or purchased an old commercial building and want to transform it into a new space for your business, you can plan your painting projects with Custom Painting, Inc. We have a team of skilled painters for residential and commercial painting who can help you with any painting service you need. If you want to learn more about the services we offer or request a free quote, you may call us at (925) 294-8062 or fill out this contact form.