Exterior painting plays a pivotal role in enhancing the visual appeal and longevity of commercial properties. A well-maintained exterior not only creates a positive first impression but also protects the building from weathering and structural damage. In this regard, Custom Painting, Inc. stands out as a beacon of excellence. With a proven track record of transforming commercial exteriors into stunning landmarks, our services are unmatched. 
We go beyond just applying paint; we meticulously assess the property's unique needs, utilize top-quality materials, and employ skilled professionals to ensure a finish that looks great and lasts for a long time. Our commitment to craftsmanship, attention to detail, and dedication to customer satisfaction make Custom Painting, Inc. the ultimate choice for commercial exterior painting needs.
Benefits of Exterior Painting
There are plenty of obvious and not-so-obvious benefits that can help you mark an improved first impression of your company, thereby leading to long term customers or clients, including the following:
Improved Aesthetics: A well-maintained exterior paint job can significantly enhance the visual appeal of your commercial property. It creates a positive first impression on clients, customers, and tenants, making your business more inviting and professional.
Increased Property Value: Regular exterior painting not only keeps your property looking its best, but also adds to its overall value. A fresh coat of paint can make your commercial space more attractive to potential buyers or lessees, leading to increased property value.
Enhanced Curb Appeal: A visually appealing exterior can attract foot traffic and drive business. It can also improve your property's visibility, helping it stand out in a competitive market.
Protection from Weather and Wear: Quality paint acts as a shield against the elements, preventing damage from rain, UV rays, and harsh weather conditions. This protection extends the lifespan of your building materials and reduces maintenance costs.
Compliance with Building Codes: In the San Francisco Bay Area and many other locations, there are specific building codes and regulations regarding exterior appearances. Professional painting services ensure your property complies with these regulations, avoiding potential fines and legal issues.
Improved Insulation: Properly applied exterior paint can also enhance insulation, reducing energy consumption and costs.
Prevention of Rot and Decay: Painting prevents moisture from penetrating building materials, reducing the risk of rot, decay, and structural damage.
Preservation of Siding and Trim: Exterior painting helps maintain the integrity of siding, trim, and other surfaces, preventing the need for costly replacements.
Cost-Effective Maintenance: Painting is a cost-effective way to maintain your property, preventing the need for more extensive and expensive repairs down the line.
Increased Business Reputation: A well-painted exterior reflects a commitment to professionalism and attention to detail, positively impacting your business's reputation.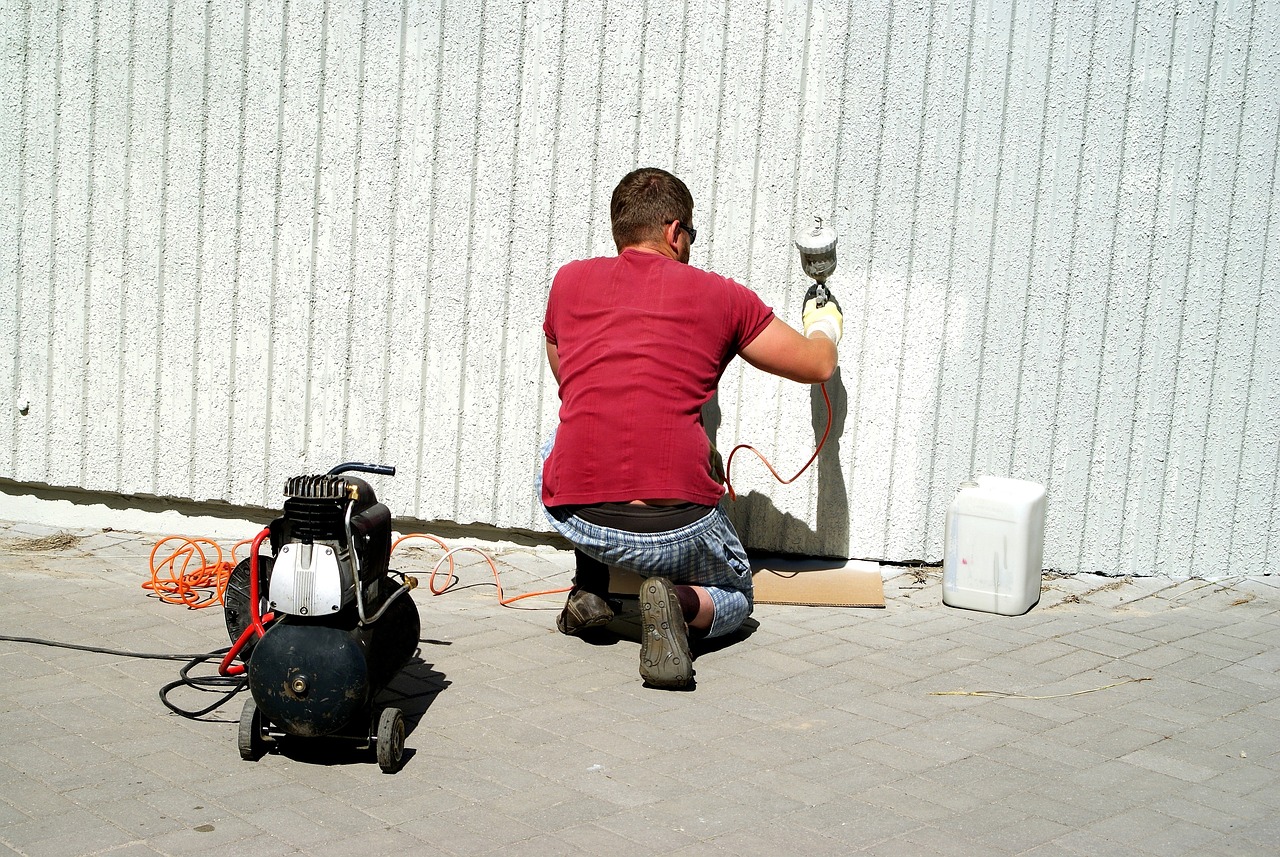 Our Exterior Paint Services
We are proud to say that we stand out from the rest! Our thought process and business methodology sets us apart because we value professionalism and sophistication. 
Our services encompass a range of meticulous steps to ensure your property receives the finest treatment, and your expectations are surpassed.
Surface Preparation Excellence
Before any paint touches your building's exterior, we undertake a thorough surface preparation process. This includes diligent cleaning, scraping, and sanding, ensuring a smooth canvas for the paint to adhere to. This crucial step sets the foundation for a long-lasting finish.
Premium Paint and Coating Selection
We understand the importance of using high-quality paints and coatings. Custom Painting exclusively offers premium options, ensuring vibrant, fade-resistant colors and optimal protection against the elements. Our expert team assists you in choosing the perfect product for your specific needs.
Skilled Application Techniques
Our skilled professionals employ a variety of application techniques, including brushes, rollers, and spray methods, to achieve flawless results. Each approach is carefully selected based on your property's unique requirements, ensuring even coverage and impeccable finishes.
Tailored Solutions for Your Needs
We recognize that every commercial property is unique. Our services are fully customizable to cater to your specific needs and preferences. Whether it's a historic building, a modern office complex, or a retail space, we adapt our techniques and materials to meet your expectations.
Step-by-Step Guide to Our Exterior Painting Process
Inspection and Assessment

: Our journey begins with an assessment of your property. We evaluate the current condition, identify any issues, and discuss your goals and preferences. We commence with thorough surface preparation, addressing any imperfections and ensuring a clean, smooth surface.

Paint Selection and Color Consultation

: We guide you through the selection of paints, helping you choose colors that align with your vision and enhance your property's aesthetics.

Application Methods

: Our expert painters apply the chosen paint using the most suitable methods, guaranteeing consistent coverage and a flawless finish.

Cleanup and Final Inspection

: Post-application, we leave your property spotless. Our team conducts a rigorous final inspection to ensure every detail meets our high standards.
Commitment to Quality Control
Quality is the bedrock of our services. Throughout the process, we maintain strict quality control measures and conduct inspections at every stage. Our commitment to your satisfaction is unwavering, and we take pride in delivering results that not only meet but exceed your expectations.
Why Choose Us?
Over the last few years, Custom Painting has established a reputation for exceptional work. Here are the top reasons why we are the best in the business. 
Experienced and Skilled Team: Our company boasts a team of seasoned professionals with years of experience, ensuring top-notch craftsmanship and attention to detail.
Eco-Friendly Paints: We prioritize environmental responsibility by using eco-friendly paints that are safe for both your property and the planet.
Timely Project Completion: We understand the value of your time. Our commitment to meeting deadlines ensures that your project is completed promptly and efficiently.
Competitive Pricing: We offer competitive pricing without compromising on quality, making exceptional commercial exterior painting accessible to businesses of all sizes.
Customer-Centric Approach: Our dedication to understanding your unique needs and providing tailored solutions sets us apart, ensuring your utmost satisfaction.
Quality Assurance: We maintain rigorous quality control measures at every stage to deliver results that consistently exceed expectations.
Transparency and Communication: Clear communication and transparency are integral to our client relationships, fostering trust and peace of mind throughout the project.
Get Free Consultation Today
Ready to transform your commercial property with our exceptional exterior painting services? Contact Custom Painting, Inc. today! Schedule a consultation, request a free estimate, or simply reach out for more information. Our expertise extends beyond exterior painting; we also offer interior painting, ensuring your entire space looks its best. Get in touch to enhance your property's appeal and value by calling us at 925-294-8062 or filling out our convenient contact form.