Doors in commercial buildings in the Bay Area, CA, are typically vulnerable to damage from external factors. For example, sunlight can fade the color out of doors, while a combination of moisture and heat can cause changes in the wood that could warp or damage doors. 
If your wooden door has been painted a lot of times, the paint starts to flake, or if your glass door becomes more opaque and has some scratches, it's time to get your door refinished without having to replace it.
Custom Painting, Inc. is an expert in paints and other types of coating, such as varnishing and staining. If your door needs refinishing, please contact us. We will offer advice regarding your door and whether it requires painting, varnishing, or staining. Entrust door refinish-varnish services restore the look of your front or interior doors.
About our service
Custom Painting, Inc.'s knowledgeable and experienced team offers professional door refinishing services, including stripping, painting, varnishing, and staining, that will restore your faded and damaged doors to look as good as new ones. 
If your front door is suffering from exposure to weather or just normal wear and tear, Custom Painting Inc. will restore your front door's original look, which will enhance your commercial building's overall curb appeal. Suppose your interior doors suffer from other damage, such as normal wear and tear, severe scratches, cracks, acid damage, termites, rust or corrosion, etc. In that case, Custom Painting Inc. will recommend repairs and treatments depending on the type of material your doors are made of. Our skilled and experienced team will suggest the best course of action to take so that you can achieve the results you've wanted.
If you're wondering about the cold drafts, air leaks, overall inconsistent indoor temperature, and unexplained increases in your energy bills, your door may have cracks that have developed over time. Our skilled team will repair your door by sealing cracks and gaps, thus preventing cold drafts and air leaks from entering your commercial building and helping to maintain a consistent indoor temperature. As a result, you can enjoy a more comfortable living and working environment and reduced energy bills.
We work on different door material types:
Wood or timber

Metal

Glass

Steel

Fiberglass

PVC

Aluminum-glazed, etc.
Here are the benefits of hiring professional door refinish-varnish services:
Enhanced curb appeal

Increase your home's value

Restored style and charm to your home

Inexpensive alternative to door replacement

Preserved and extended life to your door

Improved emergency efficiency

Protection against damage

Savings of time, effort, and money
Our Process
Our process varies depending on the door material or type of damage, but we usually restore and refinish your door by the following steps:
Remove the door

Safely remove old coating layers

Restore and consolidate material (such as wood or timber) when needed

Protect the surrounding areas, such as walls, windows, flooring, etc.

Remove hardware

Sand the flat surfaces 

Perform other specific work, such as scraping the molding, depending on the door's existing condition.

Seal cracks and gaps

Paint, varnish, or stain

Reinstall the door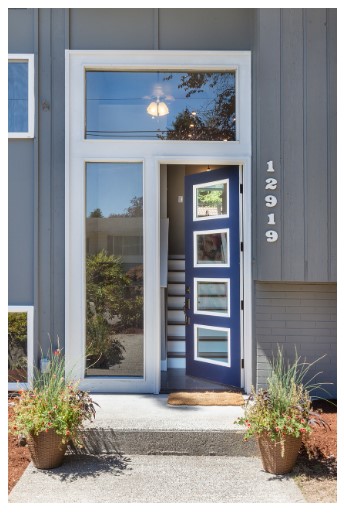 Choose us for your door refinish-varnish needs!
Custom Painting Inc.'s several years of experience have earned more than enough expertise in the painting, repairing, and restoring department. Aside from painting, we excel in other things such as door refinishing and varnishing, taking your old, faded, or damaged doors and bringing them back to life – at a fraction of the cost of door replacement.
Customer satisfaction has been our top priority, and we wouldn't have lasted in the business without positive remarks, testimonials, and client recommendations. It is still our most important goal and the overall stamp of our success. It is our clients' glowing reviews and endorsements that keep us going.
Call us today!
Does your commercial building need door refinishing-varnishing services or other services such as interior painting, exterior painting, wood rot repair or replacement, custom crown molding installation, or acoustic ceiling removal? Custom Painting, Inc. has the best painters in the Bay Area and offers a very reasonable yet guaranteed painting and repair service. 
Call us today at 925-294-8062 or message us, and let's see what we can do for your commercial property.