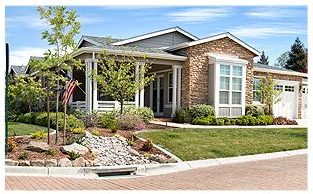 Custom Painting, Inc. fully understands how important a home is for you and your family. So, whether we come to paint your kitchen walls or the exterior, we guarantee that we will treat your home with care, consideration, and attention to detail.
All our employees are experienced, trained, and well-rounded, making house painting in the Bay Area and surrounding areas as easy and hassle-free as possible. We make sure that we work efficiently and, simultaneously, make you feel comfortable with the entire process. If you have questions, ask our estimators to supply a list of references. We encourage you to ask questions and make requests.
An essential part of our pride in our over four decades in the industry is our customers. Many of them have enthusiastically reviewed and shared testimonials.
Your home is a significant investment you may make. Thus, we at Custom Painting, Inc. will do everything we can to beautify your home, breathe new life into it, and protect it from the elements. We prepare your home before we start house painting in the Bay Area. We always do surface preparation in every project, as it is essential to give your home a beautifully done finish and protect it from the elements.
Our Residential Services include the following:
Color consulting for painting
Custom epoxy flooring
Custom crown molding and trim installation and painting
Deck staining
Decorative painting service
Door refinish-varnish
Drywall repair and texture
Exterior painting
Faux painting service
Interior painting
Kitchen cabinet painting
Light carpentry
Stucco painting and repair
Vinyl and aluminum siding painting
Wood rot repair and paint
Our Commercial Services include the following:
Acoustic ceiling removal
Awning removal
Break room kitchen cabinets
Brick waterproofing
Commercial stenciling
Commercial stucco repair and paint
Concrete ceiling repair
Exterior painting
Interior painting
Pressure washing
Rusty metal door painting
T1-11 siding painting
Wallpaper removal
Wood rot repair
Starting a painting project in the Bay Area can be challenging and stressful, even more so if you have never worked with a professional. When you hire a paint contractor, look for one that has been in the business for many years. You'll know that the painters you've hired have the experience and expertise to do the job right from the beginning and can provide the desired results.
When you choose to hire Custom Painting, Inc. to paint your property, here's what you can expect:
A prompt response when you call.
Punctuality and a timely estimate.
A complete and concise quotation.
Starting to paint according to your schedule.
A foreman with solid leadership skills.
An experienced, skilled, and dedicated team of workers.
High-quality workmanship.
Attention to detail that you can expect from start to finish.
Problem-solving and troubleshooting during and after the project.
Highest quality paints, primers, and other coatings, as well as tools and equipment.
A full five-year warranty on our workmanship.
A follow-up visit after the project has been completed.
We have $4,000,000 liability insurance.
Workers' compensation covers our employees.
When you choose Custom Painting, Inc., we will walk you through your property, enabling us to inspect it and tell us what you would like to have painted. If you feel unsure about what colors you want in your home, we can help you with it. Then we will provide you with a detailed and accurate estimate of what house painting in the Bay Area will entail. You will understand what to expect when you hire us to paint your home.
We will work with you to arrange your project according to your schedule. When we arrive at your property on the first day, our foreman will introduce himself to you so you can turn to him whenever you have questions. The foreman will work closely with our uniformed professional painting team and then review the project's scope according to your estimate to ensure that the work is done to your satisfaction. Of course, feel free to ask our team questions while we're there painting your home.
When the project is finished, our foreman will walk you through the finished project area to ensure the work was completed correctly, the place was cleaned up, and that you are happy with our work.
Many homeowners don't think about house painting in the Bay Area or surrounding cities because they've never had it done before. But when you choose Custom Painting, Inc., we guarantee you professional work that follows your schedule. Are you ready to give your home an updated look? Call us at 925-294-8062 to make an appointment with our estimator and receive a free estimate.