T1-11 siding is a wood or wood-based siding. It comes in two types – plywood and oriented stranded board (OSB), with the latter being the more cost-effective option since the panels are made from wood strands glued together with synthetic materials.
T1-11 siding is more commonly used in homes, sheds, and outbuildings, although it is not as popular as it was then. It is also used for small commercial buildings. 
One of the great things about T1-11 siding is its versatility. It can be painted, stained, cut, and modified in different ways to achieve various looks. While it is an economical siding option, T1-11 requires regular repainting and maintenance to protect it from heat and moisture and to maintain its attractive appearance.
Custom Painting, Inc. has a team of the best painters in the Bay Area who work with different types of siding. We repair and paint or stain your T1-11 siding to restore its appearance and ultimately extend the life of your commercial building.
Advantages of T1-11 siding painting
To maintain an attractive storefront, you'll need to have your T1-11 siding repainted (or re-stained) as regularly as possible. While preventative maintenance can mean shelling out your money or resources, you should also see it as an investment. Furthermore, it can also prevent you from spending on costlier repairs.
Regularly painting or staining your T1-11 siding will help you reap the following benefits:
Improved aesthetics – Whether you want to paint or stain your T1-11 siding, you're going to give it a fresh new look that will boost your commercial building's curb appeal and attract potential customers.

Enhanced durability and protection – T1-11 siding needs to be repainted or re-stained regularly to add a layer of durability and protection from heat, moisture, and insects. It preserves your T1-11 siding and makes it last longer.

Maintained or increased property value – A fresh coat of paint or stain potentially increases your commercial building's resale value by around 2% to 5%. If you're going to sell your commercial space, you might as well give it a fresh coat of paint or stain with carefully chosen colors and shades. You shall see a deluge of offers in no time!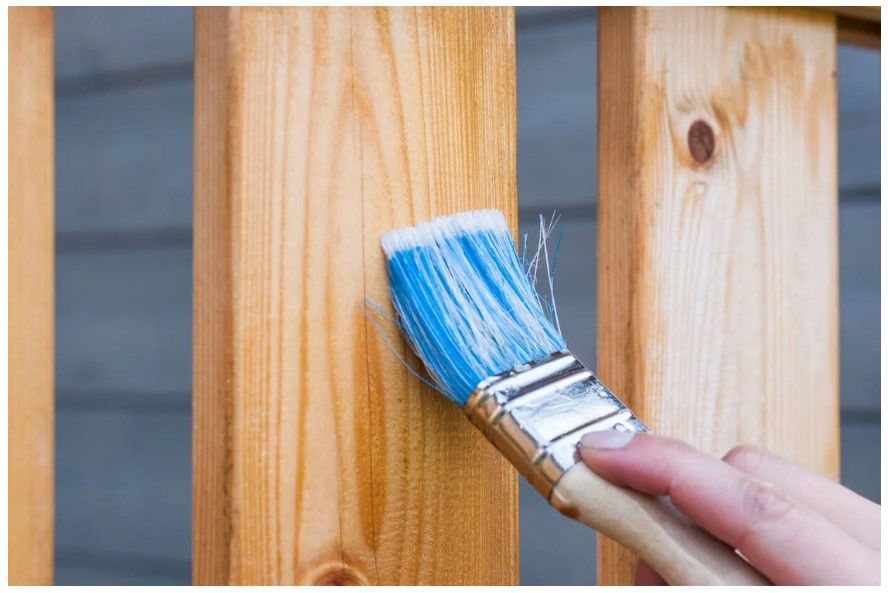 Our Services
By hiring Custom Painting, Inc.'s services, you'll be able to breathe new life into your commercial building in Bay Area, CA, while ensuring it lasts longer. 
Here are the typical steps in painting T1-11 siding:
Inspection and preparation – The siding is inspected for damage, such as cracks and holes. It is then followed by preparing the surfaces – cleaning, drying out, making the necessary repairs, sanding, and priming before painting. We also prepare the work area by covering doors, windows, decks, flower beds, etc., with drop cloths.

Color consultation and selection – Our color consultants discuss with clients the colors to be used for the siding. We explore different color options and take the design aspects of your property as bases for your color choices. Then, we do samples and testing to help clients observe how colors change with the existing elements and lighting conditions. Once all the color options are sampled and evaluated, we and the client reach a final decision on the color palette.

Professional painting – Depending on the current weather condition, client's preference, or other factors, we paint the cleaned and prepared T1-11 siding through any application methods. However, spraying paint is generally the most preferred. Then, we do some touch-ups or detailed paintwork if needed. We have a unique painting process from start to finish to make sure that the surfaces are painted from top to bottom.

Quality assurance – We at Custom Painting Inc. always stand behind our work with a warranty, which should cover any defects and errors as a result of our workmanship.
Why Choose Us?
Although you can do the painting by yourself, nothing beats the solid and flawless siding painting services by professionals from Custom Painting, Inc. You can trust us to complete cleaning, repairing, painting, or staining your T1-11 siding and restore it to its original appearance and beauty.
Over 40 years of experience in paint and light construction service industry

Licensed, bonded, and insured painters and carpenters

Proper surface preparation

Expertise in different painting techniques

High-quality and long-lasting workmanship and finish

Efficiency and time savings

Attention to detail 

Compliance with work safety standards

Cleanup services

Affordability

Warranties
Contact Us Today!
Custom Painting, Inc. offers quality standard interior and exterior painting for residential and commercial properties and other work such as light construction and custom installation. For over 40 years in the business, we have strived to complete each project with accuracy, integrity, quality workmanship, and pride. Are you looking for the best and most reliable commercial painters in the Bay Area? Please contact us at 925-294-8062 or fill out our online form. Your next paint job is an investment that needs protecting to ensure the ongoing appearance and integrity of your commercial building and reduce unnecessary expenses down the road.