Knowing how to paint is something that homeowners feel they can do themselves. There are several reasons why many homeowners opt to DIY for various paint projects – but probably the number one reason is budgetary constraints. They believe they can save money by doing the work themselves.
However, painting is something that you must pay utmost care and attention to. Just a tiny mistake and all your efforts will go to waste.
These are some of the painting tasks that professionals do that homeowners might not want to do:
Preparing the area for painting
Preparing the work area and the surface for painting requires no specialized skill or trained personnel. Homeowners can do the work themselves. To ensure your belongings are adequately covered, painting crews will do this step for you.
However, preparation is the most time-consuming part of any paint job. When house painting in the Bay Area, depending on house size, expect it to take time before the first coat of paint is applied. You may want to take cues from interior painters near me on how to prepare a room before painting:
Move out furniture or move them to the center of the room. Cover each piece with drop cloths or plastic sheets to protect them from paint drips and sanding dust.
Remove other objects in the room, such as wall décor, drapes, light bulbs, and knick-knacks. Store them away in a safe place.
Remove the switch and outlet face plates.
Lay drop cloths on the floor.
Clean the walls and let them dry.
Repair cracks and nail holes with spackling paste or joint compound.
Let the spackling paste or joint compound dry thoroughly, then sand the excess using medium-grit sandpaper on the walls.
Fill cracks in joints between baseboards and around door and window trim with a latex caulk according to the manufacturer's instructions.
After applying caulk, use a damp cloth or sponge to smooth and wipe off any excess. Let the caulk dry completely.
Invest in a good painter's tape and tape off areas such as trim and woodwork. Press the tape firmly to make sure that the paint won't bleed underneath it.
Finally, apply one or two coats of primer to the surface. Allow the primer to dry completely; now you're ready to paint. Tip: tint your primer with gray or the color of the paint you will use.
Researching which paints, primers, and tools to buy is also part of the preparation process.
Preparation is usually tedious, so some homeowners skip prep work and go straight to painting or hasten the preparation process before applying paint. However, prep work is crucial to obtaining a flawless paint job. Otherwise, skipping or rushing the surface preparation process will only result in disaster. If you make a mistake, you'll need to start over again, which means unexpected expenses and extra time required to fix that you may not have to spend.
So, if you lack the time and patience to prepare your home for painting, get a professional house painting service and save yourself from stress and headache.
Paint application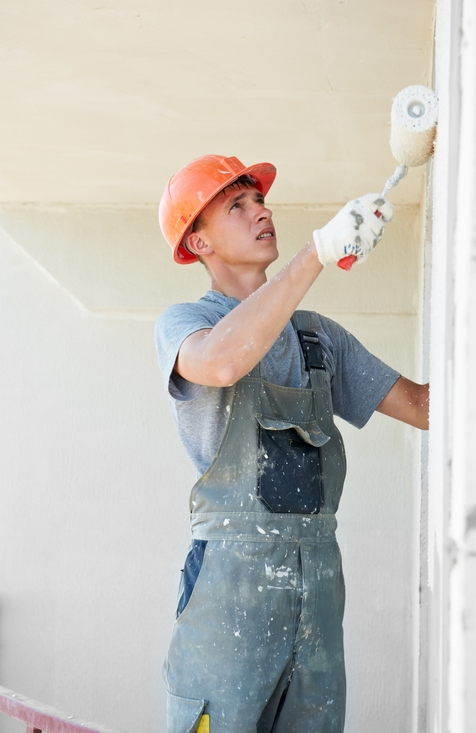 When applying paint, chances are it will be a messy job (and this explains the laying out of drop cloths and taping off certain areas). But it will be even messier, especially if you choose the wrong tools, use cheap but inferior tools, or don't know the proper application techniques.
DIY house painters tend to get carried away with their brush or roller, perhaps due to excitement or the desire to get things done in a rush. It may result in mistakes like unsightly brush strokes and lap marks. Save yourself from regret and call professional painters to do the work. The pros usually bring the paints and supplies, so you don't have to buy them, only to use them once.
Preventing risks of injury while painting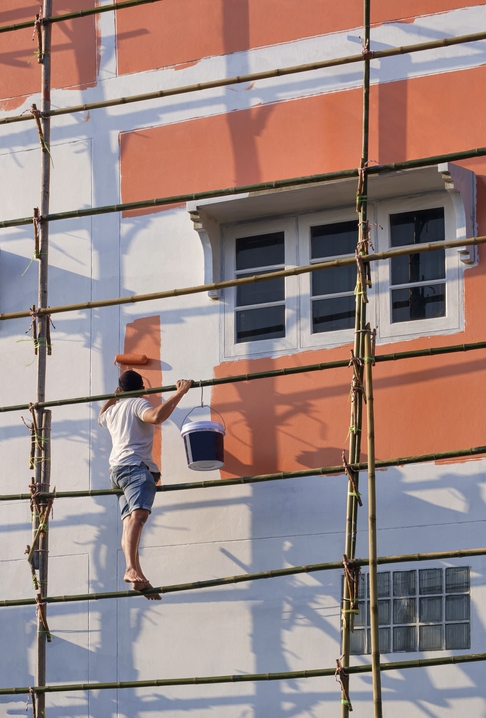 Painting can be a risky business. Not all homes are created equal, and each painting project presents unique challenges. Some homes have high walls, multiple stories, or are infested with mold spores on walls.
Not taking the proper safety precautions can put a painter at greater risk of injury from slipping and falling, exposure to mold and mildew, and exposure to paint fumes. Homeowners may need to learn how to take these precautions, or they may not take them seriously. Not wearing safety masks and goggles, failing to ventilate the area properly, or standing on a flimsy ladder while trying to paint hard-to-reach areas can lead to disaster.
So, don't put your safety in your own hands just because you want to get things done yourself. Hire professional painters to do the job. They have the proper experience, training, and equipment to be sure the job is completed safely.
If you're based in the Bay Area and want your home painted, contact professionals like Custom Painting, Inc. for interior or exterior painting near me. Professional painters will take the burden off your shoulders while providing the high-quality painting service you deserve.
To start, please call us at 510-795-0903 or fill out the form on our Contact page for a free estimate.