San Francisco, CA is famous for the Golden Gate Bridge, Alcatraz Island, and the Palace of Fine Arts, just to name a few. Tourists and locals may flock to these iconic landmarks, but they often forget that the streets they're walking on are just as iconic.
As a walkable city offering many excellent things for the senses, exploring San Francisco on foot is best. These streets define San Francisco's unique character, offer a peek at its history, and unveil its true colors. Meander along the streets and discover hidden gems, such as the historic houses dotting along the sidewalks. These historic houses retain their character, thanks to the expert hands of house painting in the Bay Area contractors who work to preserve these buildings for future generations.
Here are some landmark streets in San Francisco (and their iconic buildings) that await discovery:
1) Lombard Street
You may have seen the steep, curvy, narrow road in the movies and television shows. That's Lombard Street, probably the most recognizable street in San Francisco. Dubbed the "Crookedest Street in the World," Lombard Street has eight winding, hilly hairpins spanning from the Presidio to the Embarcadero. The street's unusual snake-like shape makes it a popular tourist attraction, drawing in over 2 million visitors every year.
Probably the most famous building along Lombard Street is the stunning 4,102-square-foot, two-story pink duplex. It was built in 1948 and was home to the late art collector Elton Puffer. It has undergone several renovations since, including seismic upgrades to make it earthquake-proof.
2) Steiner Street
One of the most iconic landmark streets in the San Francisco Bay Area is Steiner Street, where the "Painted Ladies" stand. "Painted Ladies" refers to a row of charming Victorian and Edwardian-style houses repainted in multiple colors to highlight or enhance their architectural details. You may have likely seen these candy-colored houses in films and TV shows.
3) Haight-Ashbury
Haight-Ashbury is a district named after the intersection of Haight and Ashbury Streets. The birthplace of the 1960s counterculture movement, Haight-Ashbury, was once home to several "hippie" icons such as Janis Joplin, The Grateful Dead, and Jimi Hendrix. 
Some of the historic homes in the area still standing today include The Grateful Dead House, the former homes of Jimi Hendrix and Janis Joplin, the Hell's Angels House, and many others. Most of these houses have charming Victorian, Edwardian, and Queen Anne architectural styles, which you may find unlikely when considering who used to live there.
4) Castro Street
Castro Street is at the heart of the LGBTQ+-friendly Castro neighborhood. Probably the most famous landmark is the Castro Theater, a Spanish Colonial Baroque-style movie house built in 1922.  Regarded as one of the city's premiere movie houses in its heyday, the Castro Theater is now a San Francisco Designated Landmark.
5) Divisadero Street
Divisadero Street has emerged from its sleepy reputation to become one of San Francisco's trendiest streets. Called "Divis" by locals, Divisadero Street intersects with some of the hippest areas in the city, making it the place to see and be seen. This long, multi-neighborhood street has trendy restaurants, cafes, boutiques, art shops, and many beautiful period homes.
How has house and commercial painting changed over the years?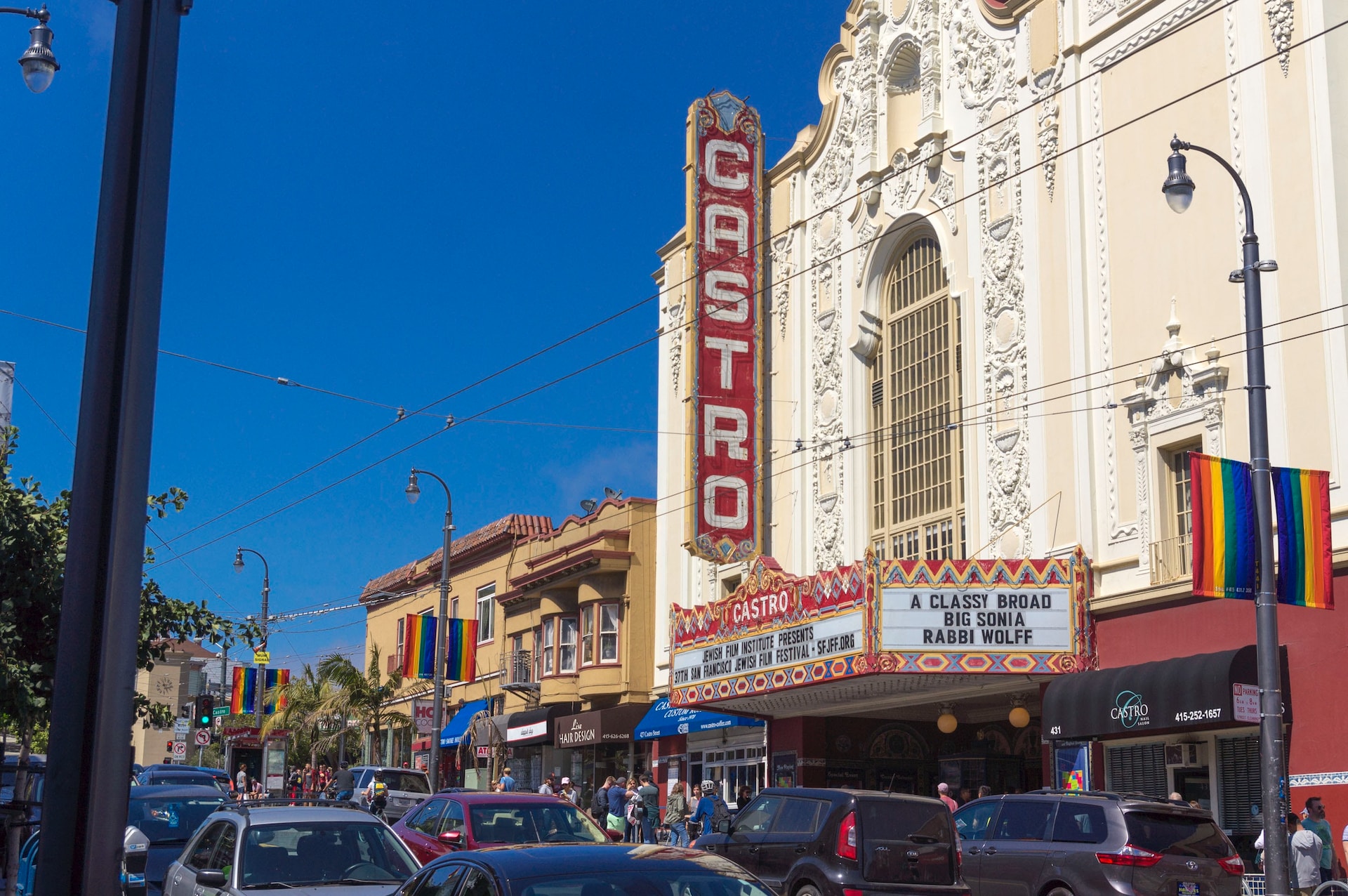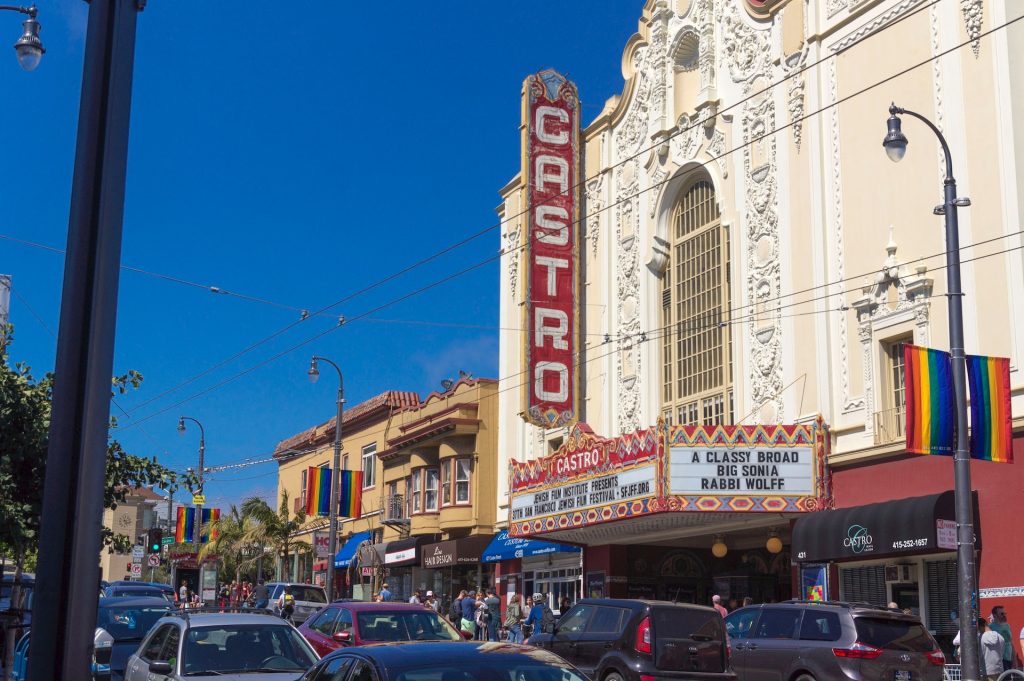 Checking out and admiring those charming historic houses as you walk on San Francisco's iconic streets can give you some lessons regarding the evolution of paints and paint application techniques.
During the 19th century, linseed oil was the most popular liquefying agent for house paints due to its low cost and availability. Around the same time, paint manufacturer Sherwin-Williams introduced the first premixed house paint.
Lead was also a common paint ingredient. It was used for a very long time until researchers found it toxic to humans. The discovery prompted Benjamin Moore to fund research into various formulas. Water-based paints, such as latex and acrylic, were invented in the 1940s, just right in time for the ban on the use of lead-based paints across North America. Lead-based paints were officially banned in the US in 1978.
The shortage of linseed oil during World War II prompted manufacturers to come up with paints that contained artificial resins from acids and alcohol. These artificial resins replaced linseed oil as a paint base due to its low cost, durability, and better color retention.
However, oil-based paints have been banned in several states due to toxic fumes that are harmful to health and the environment. A case in point is the EPA ban on oil-based paints in six states in 2004.
Due to the growing health and environmental awareness among consumers, many paint manufacturers have introduced paints with low toxic fumes as well as eco-friendly paints to the market. The introduction of these products furthers the paint industry's promise to bring quality and safety to consumers while ensuring minimal environmental impact.
As far as tools and application techniques go, they have certainly come a long way. Before the 1940s, painters used only brushes for applying paint in homes and buildings. In 1941, the paint roller was invented.
The invention of the paint roller revolutionized the paint industry, making the application faster and more efficient while improving the paint's quality. 
Since then, painters have adopted various applications or finishing techniques available to them. These techniques may include:
Brushing

– The oldest-known and most traditional paint application technique that involves the use of a paintbrush.

Rolling

– An application technique that involves the use of a paint roller.

Dipping

– A method in which an item to be treated is dipped into a container filled with paint or other coating.

Spraying

– A method that involves spraying paint onto the intended surface. There are various types of spray methods that are currently in use, including air-atomized spray, airless spray, HVLP (high-volume, low-pressure) spray, and electrostatic spray, to name a few.

Pouring or flooding

– A method in which the paint or other coating is poured into or onto the surface to be treated. 
Paint products and painting applications have evolved over time. For more information about home painting in the Bay Area in general or to receive professional services with your house painting project, contact the experts from Custom Painting, Inc. today!