The San Francisco Bay Area is home to many beautiful homes, yet some stand out. These fantastic houses are known for their unique architecture. The beauty of these outstanding homes hasn't faded over the years, thanks to the best painters in the Bay Area who have lovingly restored these famous homes.
Not only are these homes well-regarded for their gorgeous architecture, but they are also known for the famous occupants who have lived in them. 
Whether you're a tourist or a local, visiting these famous homes in San Francisco, CA will always be worth your time. Here are some examples of the iconic homes in the city, just to mention a few:
Painted Ladies – You may have seen the famous row of Victorian houses in movies and TV shows. These colorfully painted homes, near Alamo Square, are indeed a sight to behold.

The

Full House

House – The house, located at 1709 Broderick Street, was made famous through the 1980s sitcom

Full House. 

The Grateful Dead House – Rock fans and music history buffs won't want to miss this historic house on Ashbury Street. It is where the legendary rock group, The Grateful Dead, made their home during the latter part of the 1960s.

Mrs. Doubtfire

House – Located on the corner of Steiner and Broadway, this house was used for exterior shots of the home in the comedy movie

Mrs. Doubtfire.

Haas-Lilienthal House – Located at 2007 Franklin Street, the Haas-Lilienthal House is a beautiful Queen Anne-style home that survived the 1906 earthquake and subsequent fire. It now functions as a museum.
Does painting a famous home require special treatment?
The approach of painting famous and historic homes may be slightly different compared to painting newly built homes.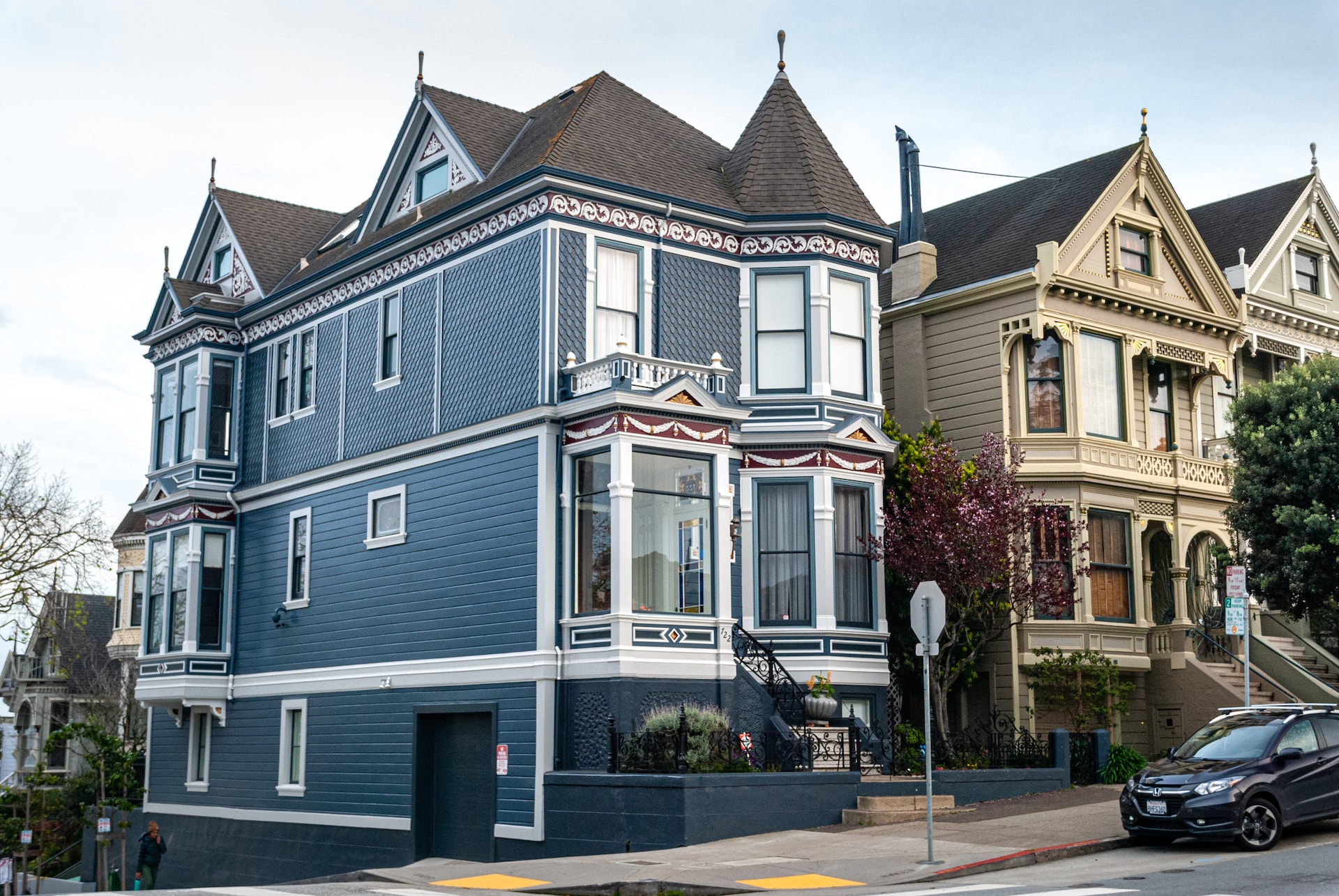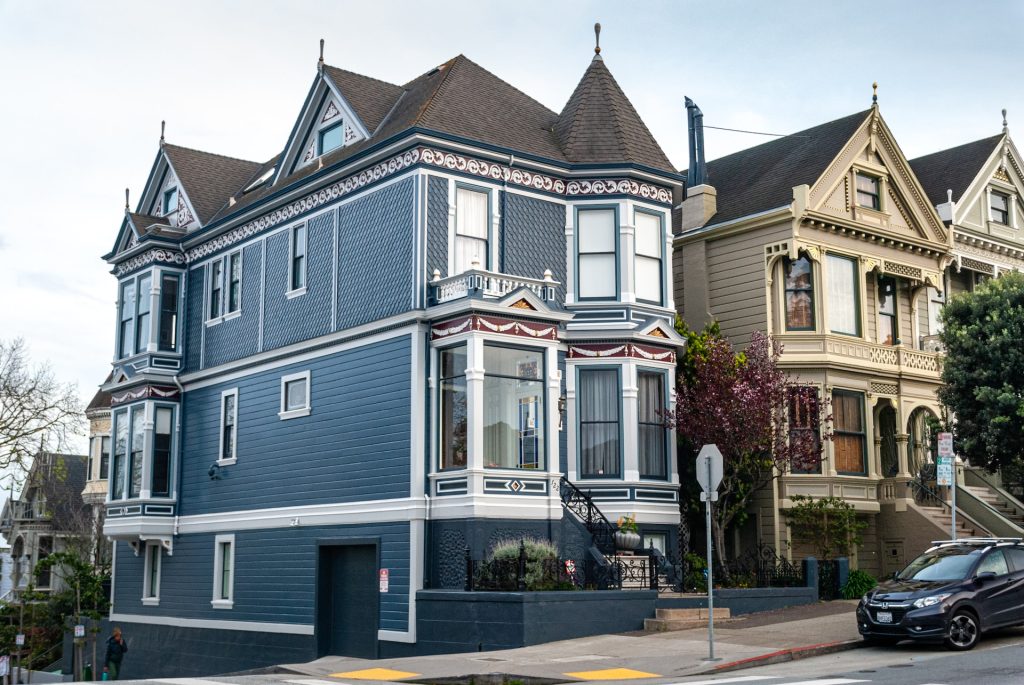 The number one reason for this is the preservation of their history. These famous homes are witnesses to the city's aesthetic and cultural history, giving people a sense of place and connection to the past. They don't want these pieces of history to be lost in the modern area, so preserving and conserving these houses is essential.
Another reason is that most famous and historic buildings are built with unique, valuable, and sometimes rare materials, such as heart pine, old brick, marble, and even precious metals like gold. In addition, they may have unique details and features you cannot find anywhere else, such as decorative facades, copper lining, or unusual glasswork. Because of these special aesthetic features, many people consider older buildings to have their own identity and character, making them more attractive compared to modern homes. Historic houses are also regarded as works of art. They are evidence of the workmanship that is mostly lost in this modern era. That's why maintaining the aesthetic elements of these houses is important.
Addressing damage in a historic home
Professional painters would carefully survey the existing conditions in a historic home before doing any work. Then every existing damage is documented, such as scratches on walls and splattered paint on floors and hardware. 
These signs of wear and tear have become "characters" of the house and are bound to be visible. If professional painters had to do extensive work to get rid of these flaws while preserving the original character of the house, the client should expect a higher cost estimate for this type of restoration project.
Protecting surfaces in a historic home
Home painting in the Bay Area experts often considers everything in a historic or antique home to be delicate. For this reason, they usually apply various methods to protect surfaces, such as covering them in bubble wrap and laying down non-slip cushioned floor covering on stairways.
It is also imperative that any masking tape to be used should be made of strong but delicate adhesive to prevent damage to surfaces. Painter's tape is the most appropriate adhesive tape for masking surfaces. The wrong adhesive tape will pull off old paint from walls, ceilings, floors, baseboards, trim, natural woodwork, etc. 
Preparation work before painting
Professional painting contractors who have painted historic homes would usually prepare surfaces that are likely to have multiple layers of paint and paints of various types (water-based and oil-based). Peeling old paint is usually scraped and sanded to make the surface smooth for new paint.
What professional painters do with lead paint
Historic homes are likely to have lead paint. Professionals usually test older homes for the presence of lead paint before beginning any work that might disturb the surface, such as sanding and scraping. 
If no lead is detected using the typical lead test kit (which can be purchased at most hardware stores), professional painting contractors will document it for record keeping.
If the surfaces test positive for lead, the painters will have to employ the Lead Renovation, Repair, and Painting Program (RRP) protocols established by the Environmental Protection Agency (EPA) so as not to cause a hazard for the paint crew and the home's occupants. 
Plaster restoration
Before drywall, plaster was the most common wall material in homes way back then, so plaster restoration is entirely different from restoring drywall. 
In case the plaster gets wet, it should be simply left to dry out and retain its wholeness. Plaster may form an alkaline solution that is inherently toxic to mold and mildew, so roof or plumbing leaks do not need the significant intervention and replacement that regular drywall (which is water-soluble) will require. 
Many professional painters may prefer repairing damaged plaster over patching or replacing it with newer wall material. The most significant issues you'll likely have with plaster are cracking or sagging walls and ceilings. To address these issues, the most common method of stabilizing plaster is by using plaster buttons and three-inch coarse screws to affix the plaster to the studs or joists.
Restoring famous and historic houses requires extra attention and care to preserve their original aesthetic traits, character, and history. Get in touch with the best painters in the Bay Area to help you preserve your historic home's timeless beauty. Request an estimate now!